We were pleased to have presented this event last Wednesday (28 June 2023) at the Morris Lecture Theatre, Robin Brooke Centre, St Bartholomew's Hospital as part of the Barts 900 celebration. The event was presented by Professors Elaine Chew and Pier Lambiase, with Dr. Courtney Reed (Tachy-Tiles soft launch), Dr. Vanessa Pope (Heart.FM study), Dr. Mateusz Soliński, and Natalia Cotic.
0:00 Introduction (Simon Woldman)
1:53 Introduction (Pier Lambiase)
3:09 Electrophysiology (Pier Lambiase)
8:45 Music of the Heart (Elaine Chew)
19:36 Arrhythmia Trigger (Pier Lambiase)
20:53 Arrhythmia Music (Elaine Chew)
24:21 Guess that Arrhythmia (Elaine Chew)
28:27 Tachy-Tiles (Courtney Reed)
30:02 Stress and the Heart (Pier Lambiase)
37:27 Music Film Emotion (Elaine Chew)
40:43 Cardiac Response to Music (Pier Lambiase)
43:47 Mechanisms of Music Response (Elaine Chew)
47:09 HeartFM (Elaine Chew)
48:36 HeartFM Study (Vanessa Pope)
49:50 Science Gallery London Demo (Elaine Chew)
53:31 Mechanisms of Music Response (Elaine Chew)
55:25 HeartFM Demo Prep (Vanessa Pope, Courtney Reed, Natalia Cotic, Elaine Chew)
59:37 HeartFM Demo (Gregoire & Anna, Vanessa P, Courtney R, Natalia C, Elaine C)
1:05:16 Credits (Elaine Chew)
1:06:15 Happy Birthday Variations by Ivan Tcherepnin (Elaine Chew)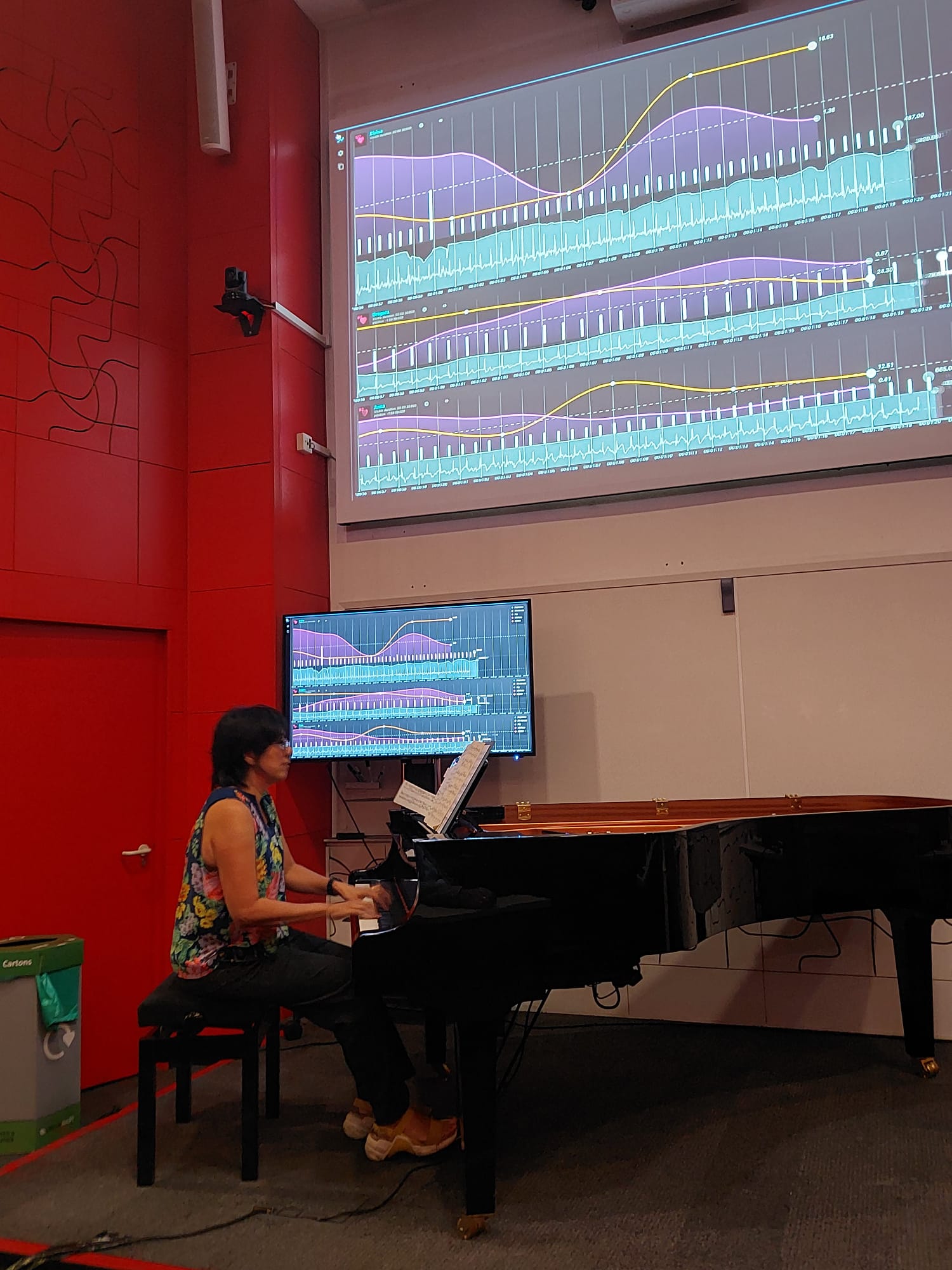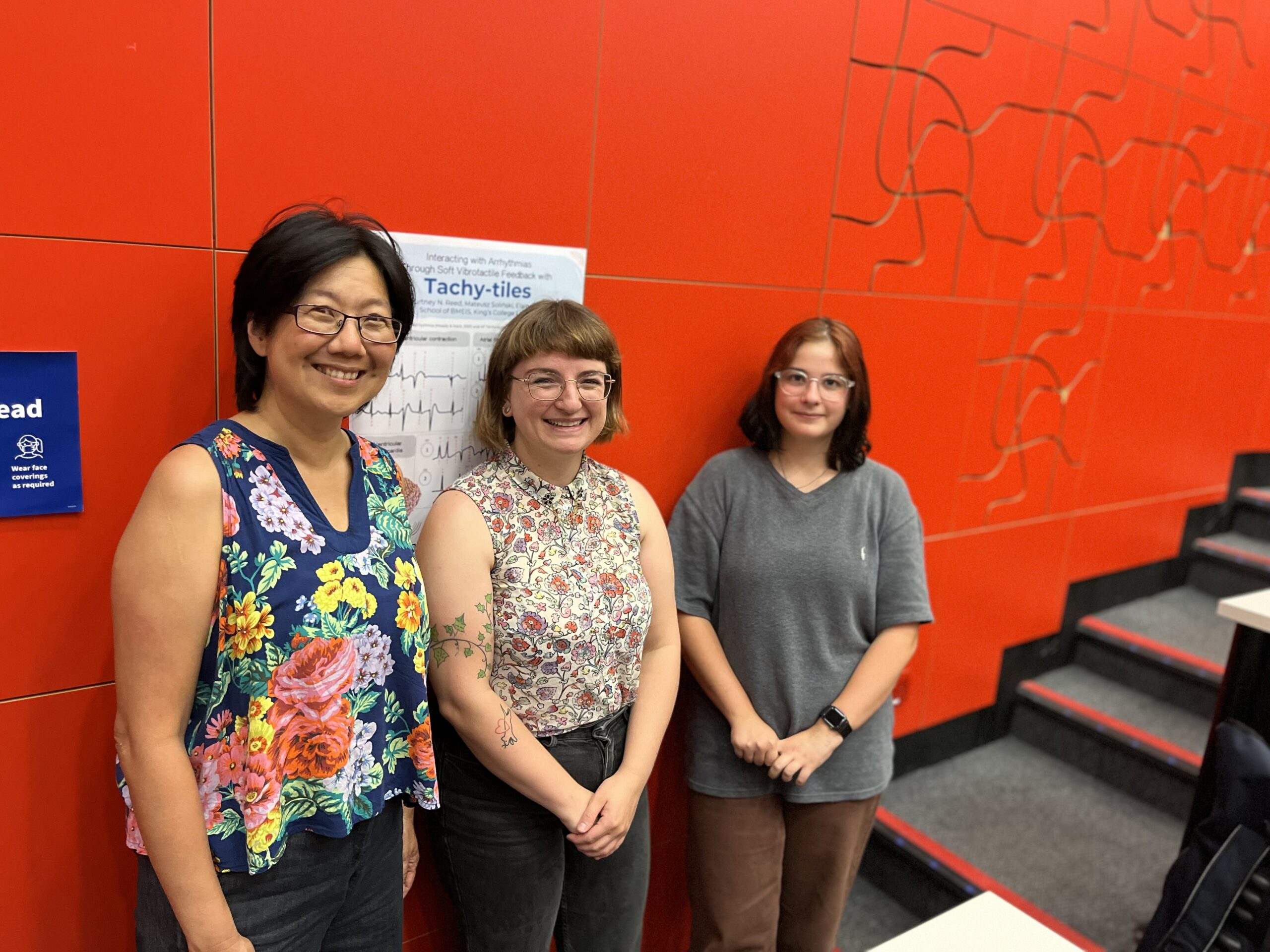 About this event
The Musical Heart explores synergies between music and cardiology, from music made from arrhythmic heartbeats to cardiac responses modulated by music. The presentation will include performances of arrhythmia music with expert commentary, introductions to prior and ongoing cardiovascular research, and real-time visualisation of piano music and performer-listener heartbeat parameters and breathing.Presented by: Elaine Chew, pianist and Professor of Engineering, King's College London and Pier Lambiase, Cardiology Consultant and Cardiovascular Research Co-Director, Barts Heart Centre and Professor of Cardiology, University College London
This event will be of interest to the general public; medical staff and students; intellectually curious
PART 1: Arrhythmia MusicWhile undergoing a cardiac ablation procedure at Barts led by Pier Lambiase, and inspired by a conversation with the registrar, Chew devised a way to transform abnormal heart rhythms to music. The technique involved transcribing rhythms from electrocardiographic (ECG) traces of arrhythmias and collaging excerpts of existing music to accurately match the transcriptions. A selection of these arrhythmia ECG compositions will be performed by Chew with descriptions and commentary by Lambiase.
PART 2: Cardiac Response to Live MusicA subsequent collaboration between Chew and Lambiase explored the impact of music on the electrical activity of the heart through a study with pacemaker patients. The patients' biventricular pacemakers were re-programmed to dual chamber pacing and the left ventricular lead used to record data from the muscles of the heart whilst the patients listened to live piano music.
Lambiase will introduce the research study and Chew will show the resulting music and cardiac signals (intra cardiac electrograms and activation recovery intervals) and analysis.
PART 3: HeartFM – Player and Listener Physiology Modulated in PerformanceThe presentation will conclude with a demonstration of the HeartFM app in live music performance, showing the performer's and listener's ECG, breathing, and heart rate variability together with concurrent music information captured and visualised in real time.
The audience will be able to see the music data and the music's impact on the player's and listener's hearts in real time. The recorded data will be reviewed by Lambiase and Chew and discussed in a question and answer session with the audience.
---
This event is one of several hosted in 2023 in celebration of the 900th anniversary of St Bartholomew's Hospital and St Bartholomew the Great church. For more information on upcoming events and the Barts900 Campaign, visit barts900.org or email bartshealth.900thanniversary@nhs.net
The grand piano used during the lecture performance by Elaine Chew is a Yamaha C7 Disklavier kindly sponsored by Yahama Music London.
The research described is part of the COSMOS and HEART.FM projects that have received funding from the European Research Council (ERC) under the European Union's Horizon 2020 research and innovation programme (Grant agreement Nos. 788960 and 957532.)